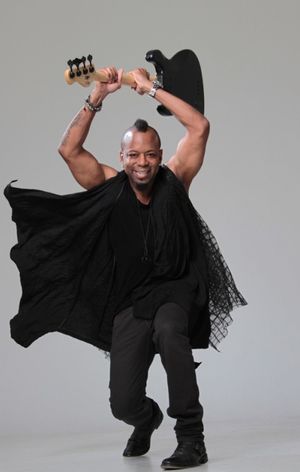 "What really knocked me over was bassist Ethan Farmer's playing and the way his parts filled up much more space than a more traditional approach."   - Premier Guitar, May 2017
Currently has over 10,500 followers on Facebook and currently has over 16,800 followers on Instagram
Ethan "Ebassman" Farmer is a highly visible first call bad boy bassist, and is one of the "who's who" in the music industry. As a native of Chicago, Ethan has established himself as an incredible talent among bass players in the industry today. While his talent speaks volumes on its own, his charisma and authenticity have propelled his career way beyond the recording studio. Ethan picked up the bass at the young age of five and made it his own. At eight years old, he became the youngest member of the family group, The Amazing Farmer Singers, marking the beginning of a lifelong love and pursuit of music.  Advanced beyond his years, by sixteen Ethan had toured the country and established himself in churches around Chicago.  As he began to come into his own, he grew anxious to explore other genres of music and was instantly drawn to R&B, funk, and soul, and idolized artists including Prince and Michael Jackson. Spending time with his uncles, who are distinguished musicians, Ethan was introduced to many of the major players in Chicago who affirmed his talent and encouraged him to pursue greater opportunities.

In 1998, Ethan moved to Los Angeles and began sitting in at the clubs awaiting any opportunity to jam with the players he respected.  He struggled to make it in LA for a year until he met Andrew Gouche, a prominent gospel bass player, who gave him the chance he had been waiting for.  While Andrew would later become a great friend and mentor, it was that initial trust in Ethan's potential which led to his first big break as a professional playing with Jody Watley on BET's Planet Groove.  Ethan's career quickly gained momentum as people often wanted to know, "Who was that young kid playing bass?"  Since then he has become a household name touring, writing, producing and recording with various artists including Janet Jackson, Babyface, Patti LaBelle, Darius Rucker, Lionel Richie, Christina Aguilera and Hootie and the Blowfish just to name a few. Ethan also appears on multiple Grammy winning records.
.
While his resume speaks for itself, many attribute Ethan's success to his chameleon like ability; adjusting his style to suit the artist while maintaining his own unique sound.  A humble character, Ethan continues to nurture his craft playing in the same local clubs that initially helped launch his career, as well as offering advice and mentorship to hopeful musicians. Apart from being an excellent bassist and an all-around "nice guy," he has confirmed his position as a well-respected musician in the industry through hard work, dedication, and most importantly, a strong foundation of faith.

"Farmer's Vineyard", released August 2015, marks Ethan's full-length debut, as he steps forward to make his mark as a solo artist. Funky as always, with a comfortable jazz feel, Farmer's Vineyard shows off his bass talents and brings an authenticity to a well know genre.