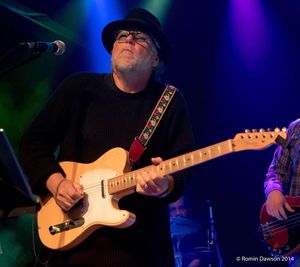 "His signature guitar sound is a blend of the blues of the twenties and thirties, the psychedelic sounds of the sixties and the funk of the seventies, all stirred together like a thick gumbo and simmered to perfection."
-Live For Live Music interview, March 2016
What the press is saying about "Music Is Love":
"...an intriguing voodoo of sex and danger, something that seems to always surround the best Louisiana music"
-Nick Deriso,
Something Else Reviews
, March 1, 2015
"The album is oozing with gospel, blues, and swampy Southern rock, all with a psychedelic edge that gives each song a warm vibrancy."
-Neil Ferguason,
Glide Magazine
,
February 25, 2015
• 2015 Best of the Beat Award Winner (Offbeat Magazine)
     Roots Rock Band or Performer
     Best Roots Rock Album - Papa Mali: Music Is Love (429 Records)

Papa Mali (born Malcolm Helm Welbourne in Vicksburg, Mississippi, May 6, 1957) is a New Orleans based, American singer-songwriter, guitarist and producer. Currently, Papa Mali is collaborating with the New Orleans supergroup The M&M's made up of Robert Mercurio & Stanton Moore of Galactic, and John Medeski of Medeski Martin and Wood.

He has been a touring musician and recording artist for decades. Yet, he is probably best known as the front man for 7 Walkers, a band formed in 2009 that includes three musical icons: Grateful Dead founding member and drummer Bill Kreutzmann, The Meters' founding bassist, George Porter Jr. and lyricist Robert Hunter,  co-writes much of 7 Walkers material with Welbourne. Multi-instrumentalist and vocalist , Matt Hubbard completes the line up. Their self-titled debut was released to critical acclaim in November of 2010.

Papa Mali is also known for his own live performances and recorded output, most notably his two albums for Fog City Records (2000′s Thunder Chicken and 2007′s Do Your Thing) produced by Dan Prothero and featuring some of New Orleans' most legendary musicians.

His work as a producer includes 7 Walkers (Response, 2010), The Phenomenal Ruthie Foster (Blue Corn, 2007) and records by Lavelle White, Omar and the Howlers, Wendy Colonna, The Greyhounds and others.

Papa Mali's forthcoming album, Music is Love, is set for release on March 17, 2015 via 429 Records. The album was recorded at The Living Room in New Orleans with producer John Chelew (Blind Boys of Alabama, Vic Chesnutt, Richard Thompson and John Hiatt). Joining Papa Mali in the studio were Johnny Vidacovich (drums), Mike Dillon (vibraphone, tablas), Casandra Faulconer (bass), Dave Easley (pedal steel), Josh Paxton (Hammond organ, piano, farfisa) and The Harmonaires (vocals).

Music is Love continues to bridge the gap between the stripped-down, minimalist Southern soul, blues roots and traditional gospel of his native Louisiana and the imported, sought-after 60's and 70's-era psychedelic West Coast sounds of his youth - an unseemly combination of influences which still inhabits his singular (and occasionally weird) musical landscape. Featuring a hand-picked crew of savvy, empathetic players and recorded in the sometimes strange and deep, dark environs of New Orleans, the album's ten songs include uniquely arranged covers of songs written by Al Green ('I'm A Ram'), Randy Newman ('Let's Burn Down The Cornfield') and David Crosby (the title track), as well as traditional songs like 'Lonesome Road' and 'Spikedriver', a radical re-interpretation of an old blues song popularized by Mississippi John Hurt. There is also 'Go Down Water', a damning indictment of the Army Corps of Engineers (and failed levees) written by contemporary Louisiana author Louis Maistros. The album is rounded out by a number of poignant originals, including 'Cane River Waltz' and 'Bought & Sold (Body & Soul)', as well as 'Make A Way', a joyful and swingin' R&B spiritual that is a collaboration between Papa Mali and local poet/philosopher and Cherokee medicine man, Reverend Goat Carson.