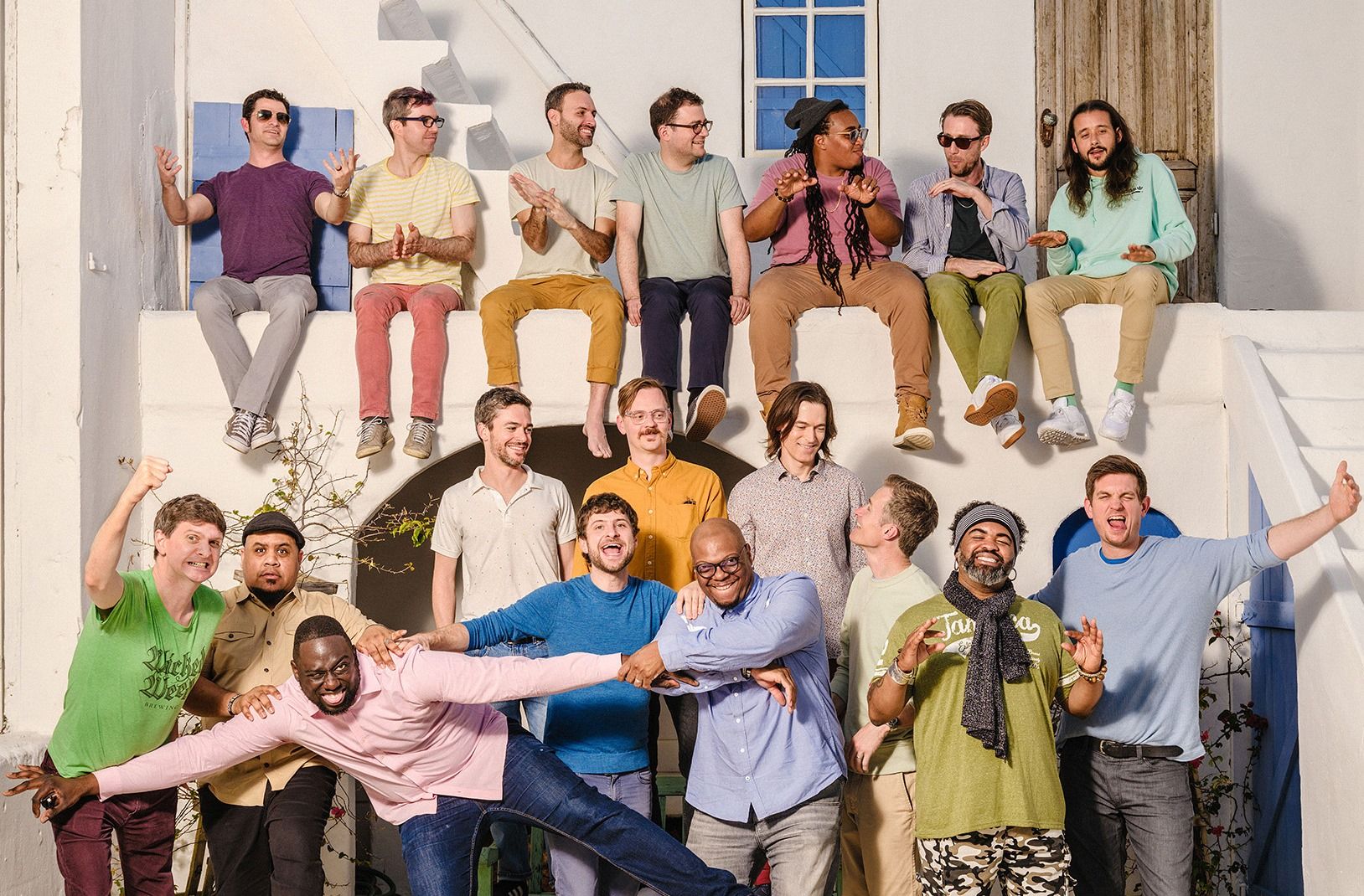 • Snarky Puppy's CD/DVD release, Family Dinner Vol. 2, debuted at #2 on iTunes Jazz Chart  on 2/12/16

• Snarky Puppy's CD/DVD release, Sylva, debuted at #1 on iTunes Jazz Chart, and climbed to the #1 spot in Billboard's Top Current Jazz Album and Contemporary Jazz Album categories, as well as #2 on their Heatseeker Chart on 6/4/15

• This band is on the pulse of the youth jazz movement worldwide. Their sheet music is part of music school curriculum in high schools and universities in the US and Canada

• Snarky Puppy's last four releases have all debuted at #1 on iTunes in US, Canada, UK and New Zealand and in top 5 in Germany, France and Netherlands

• Snarky Puppy - named to the iTunes "Best of 2012 Albums" in the Jazz category

• With the release of their 2-disc album/DVD "groundUP" (Ropeadope Records), Snarky Puppy went from an underground secret to one of the most internationally respected names in instrumental music
---
"Snarky Puppy's Michael League on the Joyfully Eclectic Group's Latest Evolution" (Rolling Stone interview)
"Jazz-meets-funk mini orchestra Snarky Puppy has unveiled a new video for "Bad Kids to the Back," a crisp, strutting new track written by trumpeter-keyboardist Justin Stanton, and slated for the group's upcoming LP, Immigrance"
"Snarky Puppy can seemingly adapt to any and every genre."
"One of the more versatile groups on the planet right now."
- Rolling Stone
---
"Snarky Puppy might be today's most popular band whose audience wouldn't be fazed by a nearly 10-minute-long lead single with no words…Crunchy guitar slices out a truncated phrase in conversation with an insistent snare drum, and flutes and trumpets drape a humid cloud cover overhead."
"Maybe you didn't notice, but this is Snarky Puppy's world, and the rest of us only live in it."
"A barnstorming, groove-centric instrumental act with a rabid fan base."
- The New York Times
---
"With their clever mix of jazz, funk, rock, and world music, they've reached a wide audience while remaining a moving target."
- WNYC New Sounds
---
"Many artists have attempted to bring jazz, kicking and screaming, into the modern age. Snarky Puppy, a loose collective from New York by way of Texas, makes it look effortless."
- SF Chronicle
---
"They're building a new kind of instrumental music, and they've already built a fan base who love what they hear."
- KNKX 
---
"Big, rich and funky."
- NPR Music
---
"Enjoy a wild cruise through jazz, funk, and R&B as the Grammy-winning Brooklyn collective...The group is expected to premiere fresh compositions alongside long-beloved tracks for a can't-miss evening part of the Phil's jazz series."
"Stands out with a furious commitment to defying musical categories."
- LA Times
---
"Thinking person's feel-good music."
- Downbeat
---
"A big, happy band of skilled musicians whose tunes are both complex and easy to dance to.."
- LA Weekly
• Currently has over 475,000 followers on Facebook and 450,000 followers on Instagram
• Snarky Puppy are 2020 Grammy Award winner for Best Contemporary Instrumental Album for the album Live At The Royal Albert Hall
• Snarky Puppy is the DownBeat Readers Poll Winner for Favorite Jazz Group 2017
• Snarky Puppy are 2017 Grammy Award winner for Best Contemporary Instrumental Album for the album Culcha Vulcha

• Snarky Puppy are 2016 Grammy winners for Best Contemporary Instrumental Album for the album Sylva with Metropole Orkest

• Snarky Puppy are 2014 Grammy winners for Best R&B Performance for the song "Something" with Lalah Hathaway
After a decade of relentless touring and recording in all but complete obscurity, the Texas-bred/New York-based quasi-collective suddenly found itself held up by the press and public as one of the major figures in the jazz world. But as the category names for all three of the band's Grammy® awards would indicate (Best R&B Performance in 2014, Best Contemporary Instrumental Album in 2016, 2017, and 2021), Snarky Puppy isn't exactly a jazz band. It's not a fusion band, and it's definitely not a jam band. It's probably best to take Nate Chinen of the New York Times' advice, as stated in an online discussion about the group, to "take them for what they are, rather than judge them for what they're not."
Snarky Puppy is a collective of sorts with as many as 25 members in regular rotation. They each maintain busy schedules as sidemen (with such artists as Erykah Badu, Snoop Dogg, Kendrick Lamar, and D'Angelo), producers (for Kirk Franklin, David Crosby, and Salif Keïta), and solo artists (many of whom are on the band's indy label, GroundUP Music). At its core, the band represents the convergence of both black and white American music culture with various accents from around the world. Japan, Argentina, Canada, the United Kingdom, and Puerto Rico all have representation in the group's membership. But more than the cultural diversity of the individual players, the defining characteristic of Snarky Puppy's music is the joy of performing together in the perpetual push to grow creatively.
The band was formed by bassist and primary composer Michael League in 2003, starting inconspicuously enough as a group of college friends at the University of North Texas' Jazz Studies program. Three years later, a serendipitous intersection with the Dallas gospel and R&B community in Dallas transformed the music into something funkier, more direct, and more visceral. It was at this time that the group absorbed musicians like Robert "Sput" Searight (drums), Shaun Martin (keyboards), and Bobby Sparks (keyboards), and were heavily influenced by legendary keyboardist Bernard Wright (Miles Davis, Chaka Khan, Marcus Miller).
Snarky Puppy Released Immigrance March 15, 2019 on GroundUP Music (click here for press release)
Snarky Puppy's Eye-Popping Animated Video Is A Surreal Visual Adventure (click here for press release)
0:00/9:31

0:00/3:39

0:00/6:42

0:00/5:46

0:00/7:20

0:00/5:24

0:00/8:28